Prospect operates approximately 90,000 acres of exclusively state and private leases in the Holbrook Basin eastern Arizona.
Due to a number of strategic and competitive advantages including shallowness of the potash deposit, existing infrastructure, and proximity to year round markets Prospect plans to develop, build and operate a conventional potash mine and state of the art production facility.
It is the commitment of Prospect to conduct operations in ways that protect the environment and safeguard employees and the public from unacceptable risks. Through integrated business plans, defined goals, priorities and decisions, we will establish a base for sustainable development by conserving resources, maximizing the resources we develop and optimizing opportunities to enhance environmental, social and economic benefits.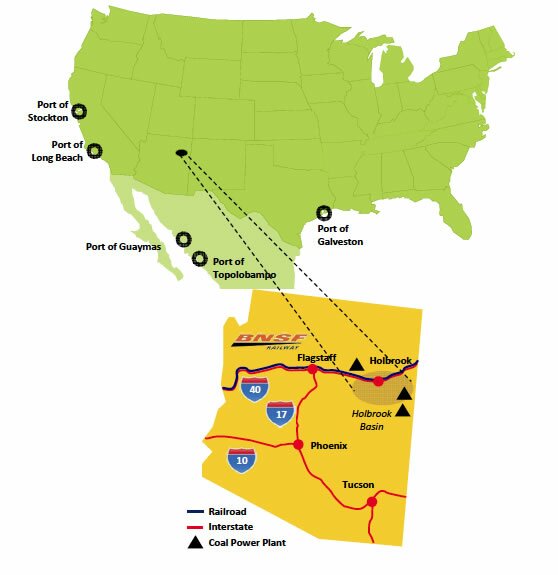 The Holbrook Salt Basin occurs within the Permian Supai Salt Formation
in eastern Arizona.
The Supai Salt has been divided into 5 cycles, of which the uppermost sequence, cycle 5, contains potash mineralization. The potential mineralized zones are found between 800 to 2000 feet (243 to 609m) below surface. Sylvite-mineralized strata typically occur in the upper portion of evaporite sequences.This depth is very similar to the Carlsbad mine in New Mexico and is relatively shallow when compared to other potash basins in the world.
The Holbrook Basin is similar geologically and in size with other salt basins currently producing potash in the United States.
In comparison to other deposits around the world, the Holbrook Basin has several competitive advantages:
Significant potash resources at relatively shallow depths;
Existing infrastructure of rail, road, gas and power provides immediate access to markets and reduces capital costs;
Year-round warm weather reduces capital and operating costs;
No competition with the oil and gas industry;
Proximity to large year-round potash markets in Arizona, California and Mexico.
North Rim Exploration updated Prospect's 43-101 mineral resource report, calculating total Sylvinite of 780 mm tonnes and 81 mm finished tonnes of K2O, of which Prospect owns a 100% operated interest. Prospect anticipates producing 2 mm tonnes per year of finished product.
Total K

2

O (MMT)
Total KCI (MMT)
Total Sylvinite (MMT)
Measured
Indicated
Inferred
Total
NI 43-101 Mineral Resource Estimate Preliminary Economic Assessment
Prospect's
Holbrook Basin asset
lies approximately 30
miles east of Holbrook,
Arizona and is bordered
to the north by
Interstate 40.